A New Gemstone For A New Generation
Found in only one place in the world, in a single mine in the rural Turkish mountains OF the ancient region of Anatolia, CSARITE® is amongst the world's rarest and most exquisite gemstones.​
With a rare and natural ability to shift colors under different light sources, CSARITE® ceaselessly transforms by day and night, indoors and out.
​
Exhibiting a spectrum of NATURAL colors from earthy pistachio and olive greens to golden champaign yellows, deep sunset gingers, and soft pinks and reds, CSARITE® is dynamic and expressive.
CSARITE®, All Natural, All Transparent, All Rare
CSARITE® / Jewelry by Erica Courtney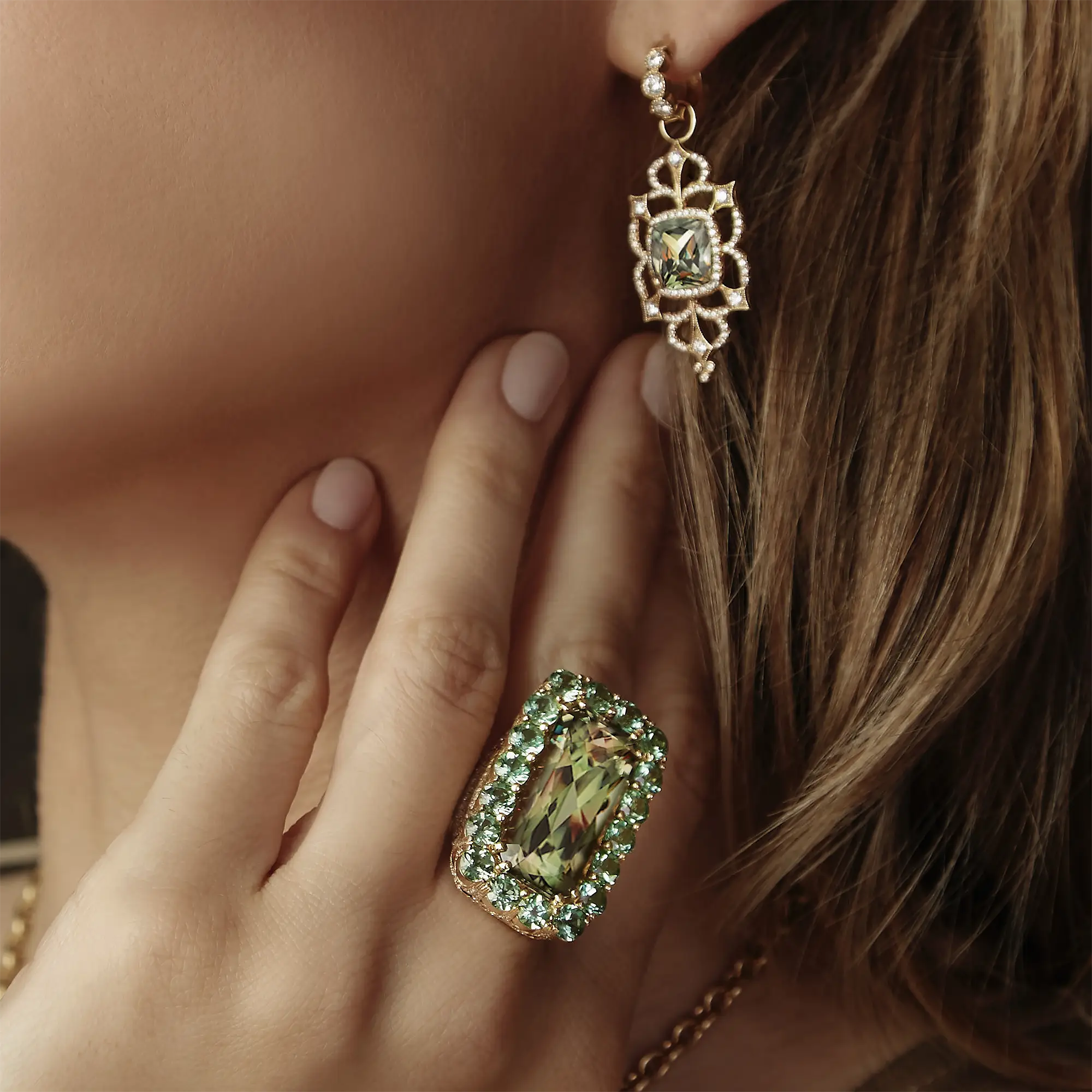 All Natural
CSARITE® undergoes a stringent sorting and grading process which ensures only the finest gemstones, at least eye-clean, reach the market, leaving no need for treatment.
It is not enhanced in any way, no heat, radiation, or fillers.
In an industry shaken by enhancement controversies, CSARITE® brings instant peace of mind with its 100% natural guarantee.
All Transparent
CSARITE® is committed to showcasing an undeniable case for ethical, transparent, and sustainable colored gemstone mining. highlighting the efficacy of such an approach, setting a clear benchmark within the sector.
Responsibly mined, processed, and distributed, CSARITE®'s beauty is underwritten by mine-to-market traceability alongside a commitment to, accountability for, and openness and honesty regarding the enactment of ethical and virtuous practices across all operations and throughout its supply chains.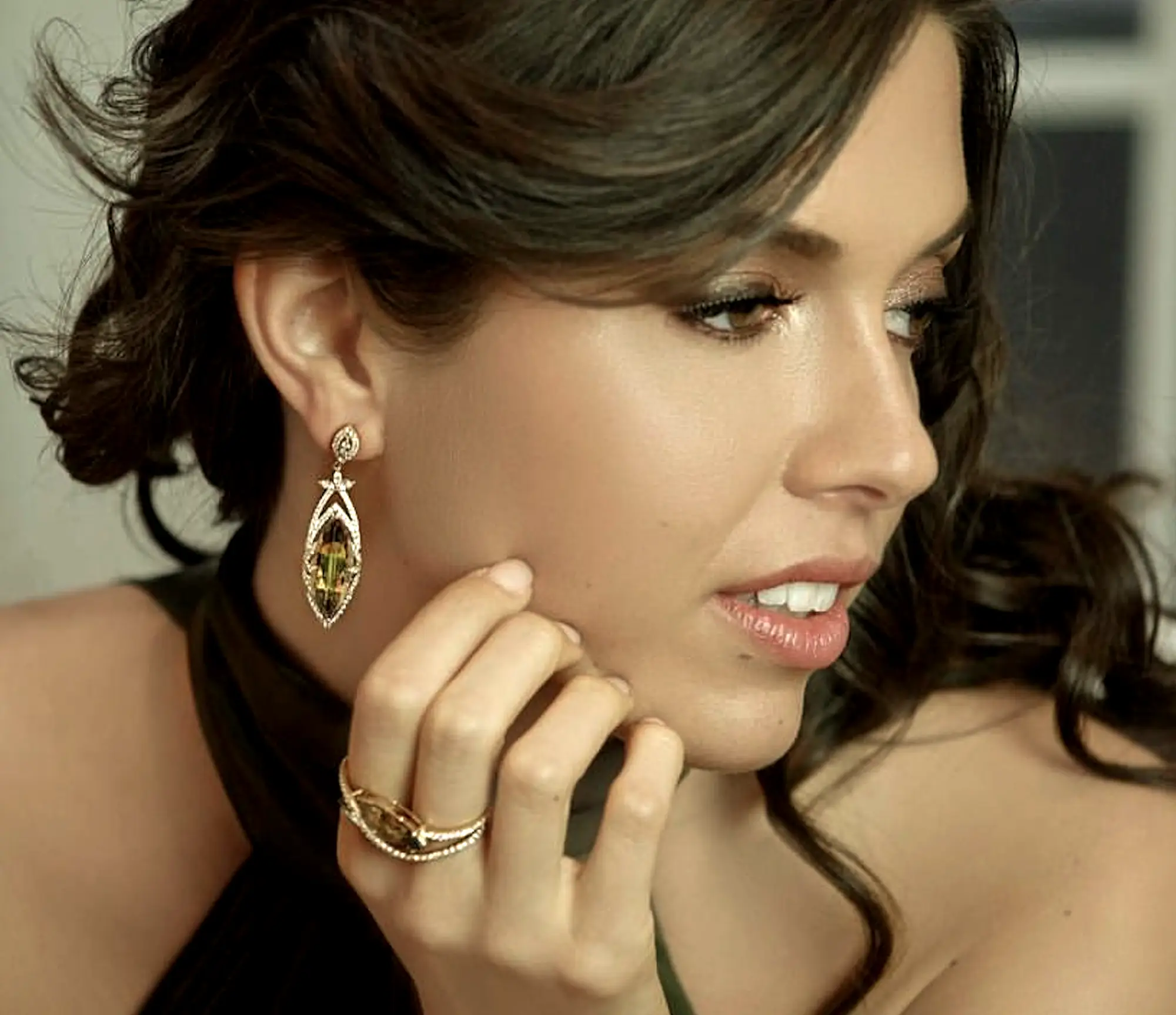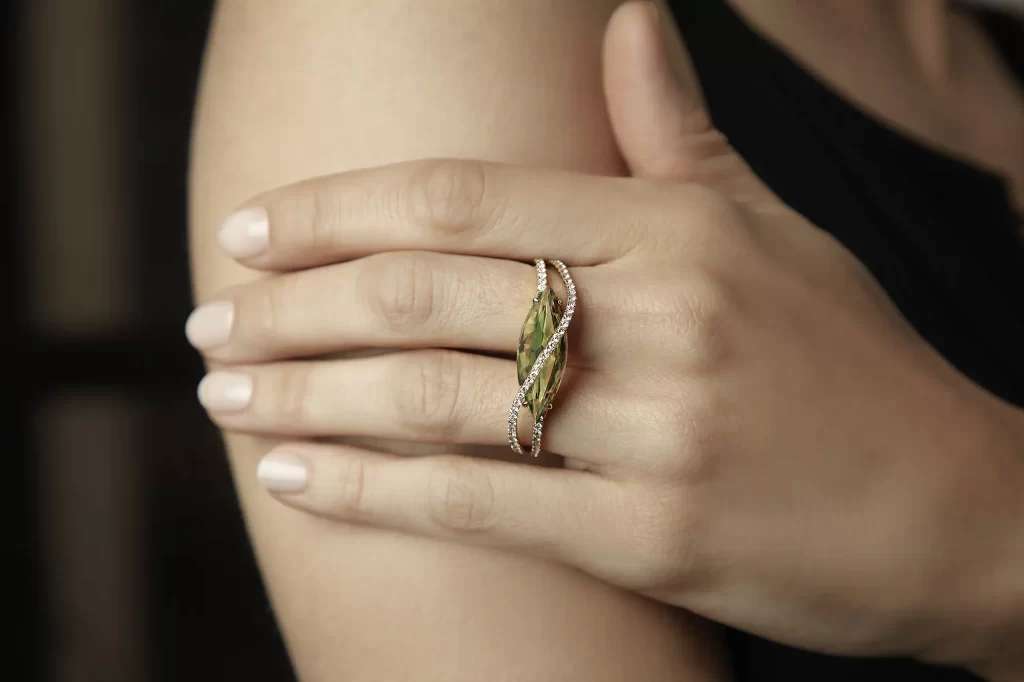 CSARITE® / Jewelry by Graziela Kaufmant
Traceable
As a single mine gemstone with a clear route to market controlled by a small group of carefully selected Distribution Partners, CSARITE® is never lost in transition and remains fully traceable.
Ethical and Virtuous
CSARITE® is committed to developing leading standards for ethical and virtuous small-scale gemstone mining, processing and marketing by developing a clear and actionable Environmental, Social and Corporate Governance (ESG) Strategy and leading the way in sustainability reporting among small-scale operators.
All Rare
Found in only one place on earth, CSARITE® is a true geological and gemological phenomenon. Coupled with its average cut and polished yield of approximately 2%, among the lowest in the industry, CSARITE® sets a new precedent for gemstone rarity.
As one of just 5 known color change gemstones CSARITE® is inherently unique, but what truly sets it apart is that unlike any other color change gems, CSARITE® exhibits a spectrum of light-sensitive hues, placing the concept into an entirely new point of reference.
From earthy pistachio and olive greens to golden champaign yellows, sunset gingers, and soft pinks and reds, CSARITE®'s light sensitivity affords far more nuances than any color change gem before it. With such ceaseless transformation, CSARITE® is perfectly suited to all identities and every special occasion.
CSARITE® also exhibits iridescence and chatoyancy, two unique and beautiful characteristics which offer endless design capabilities, making it a true spectacle.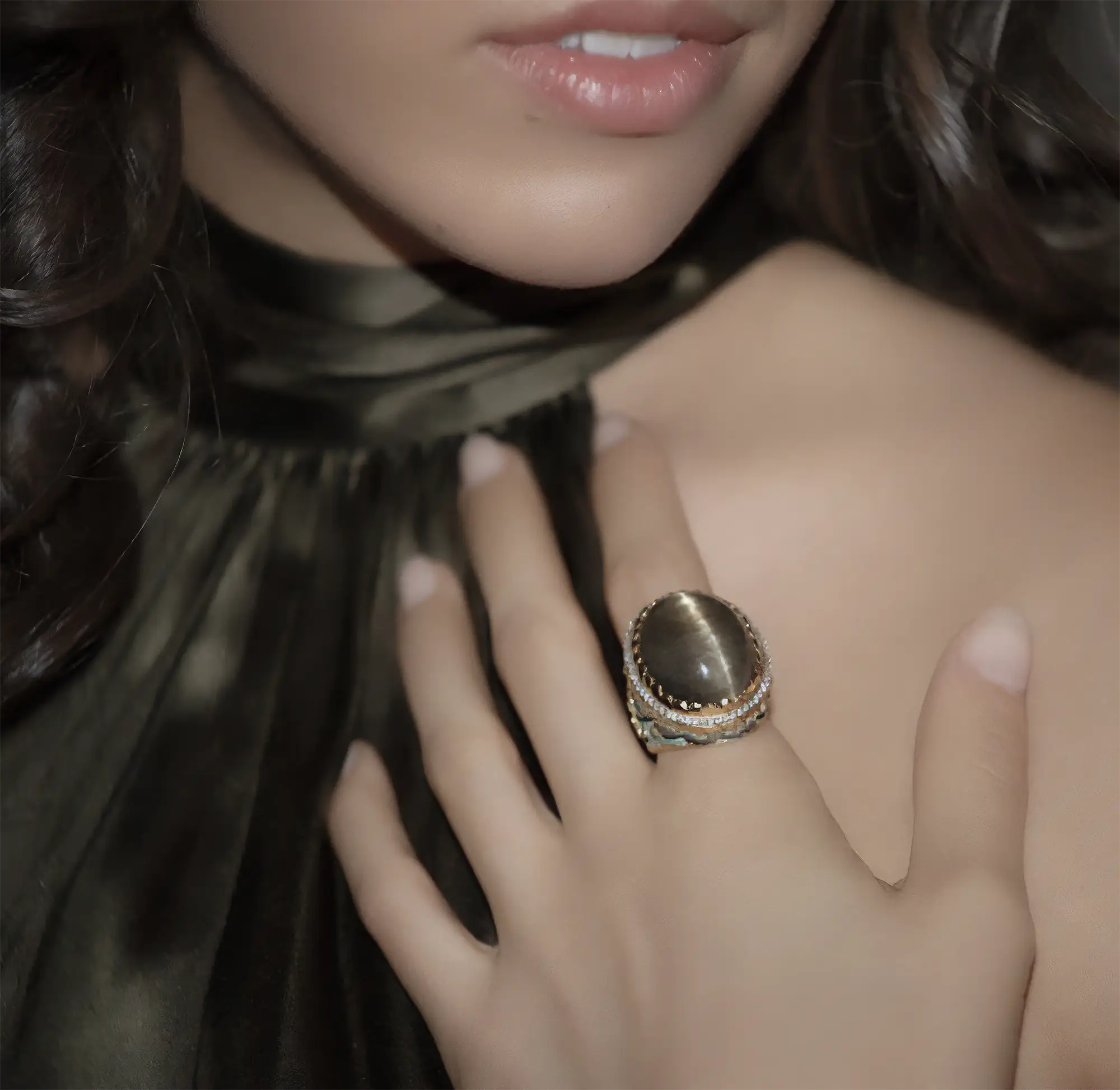 CSARITE® / Jewelry by Victor Velyan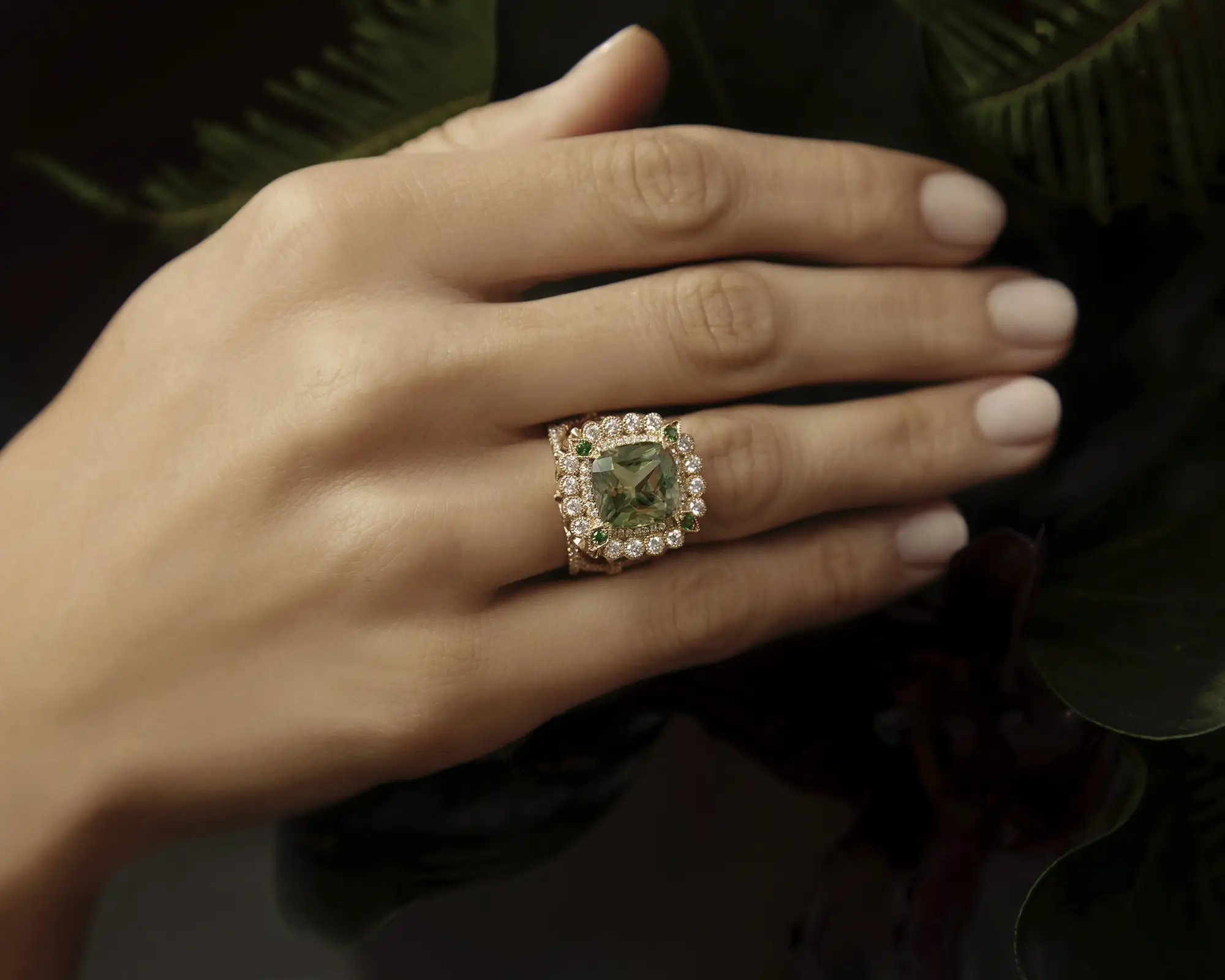 A Truly Magnificent Gemstone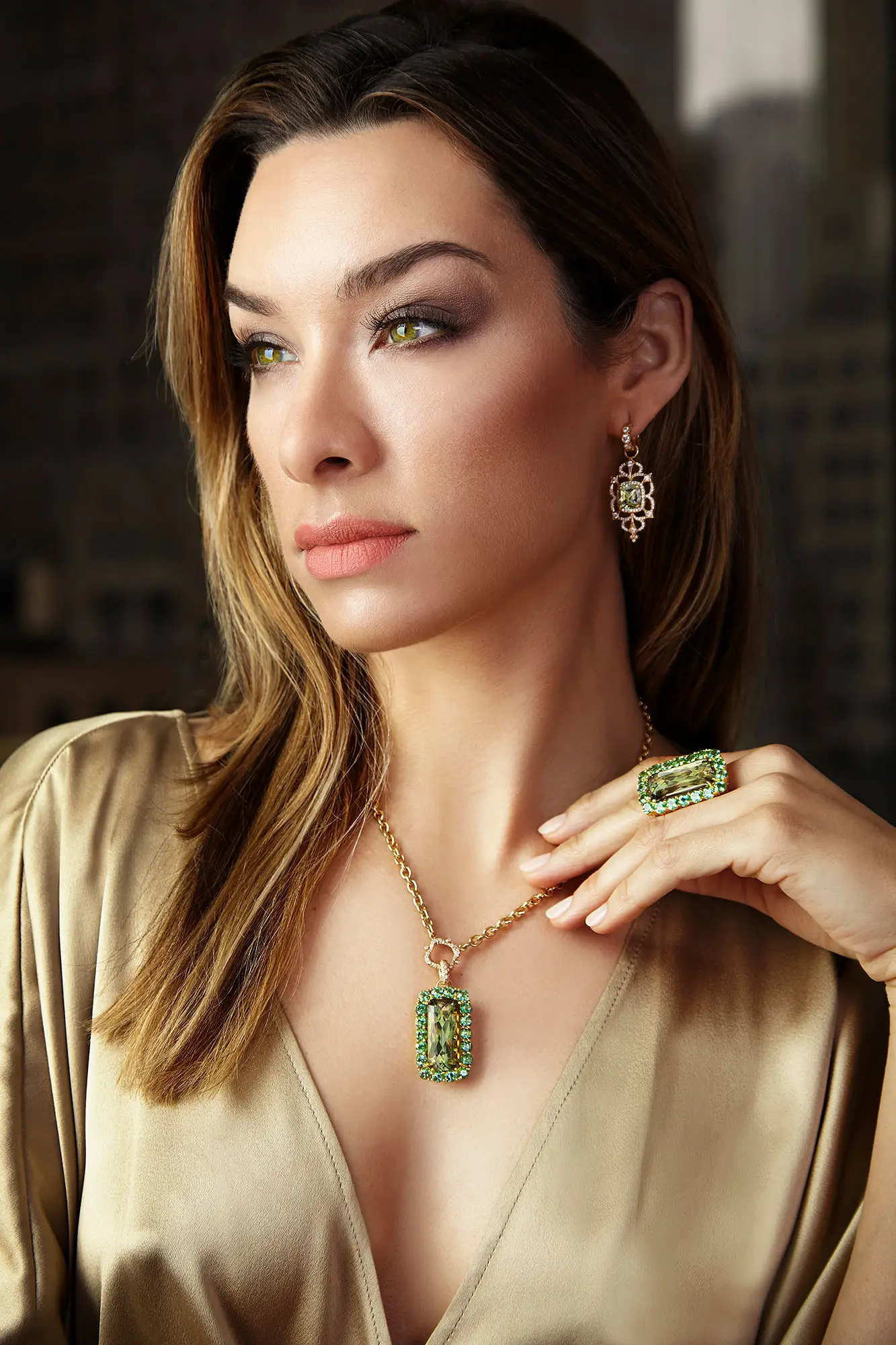 Choosing the perfect piece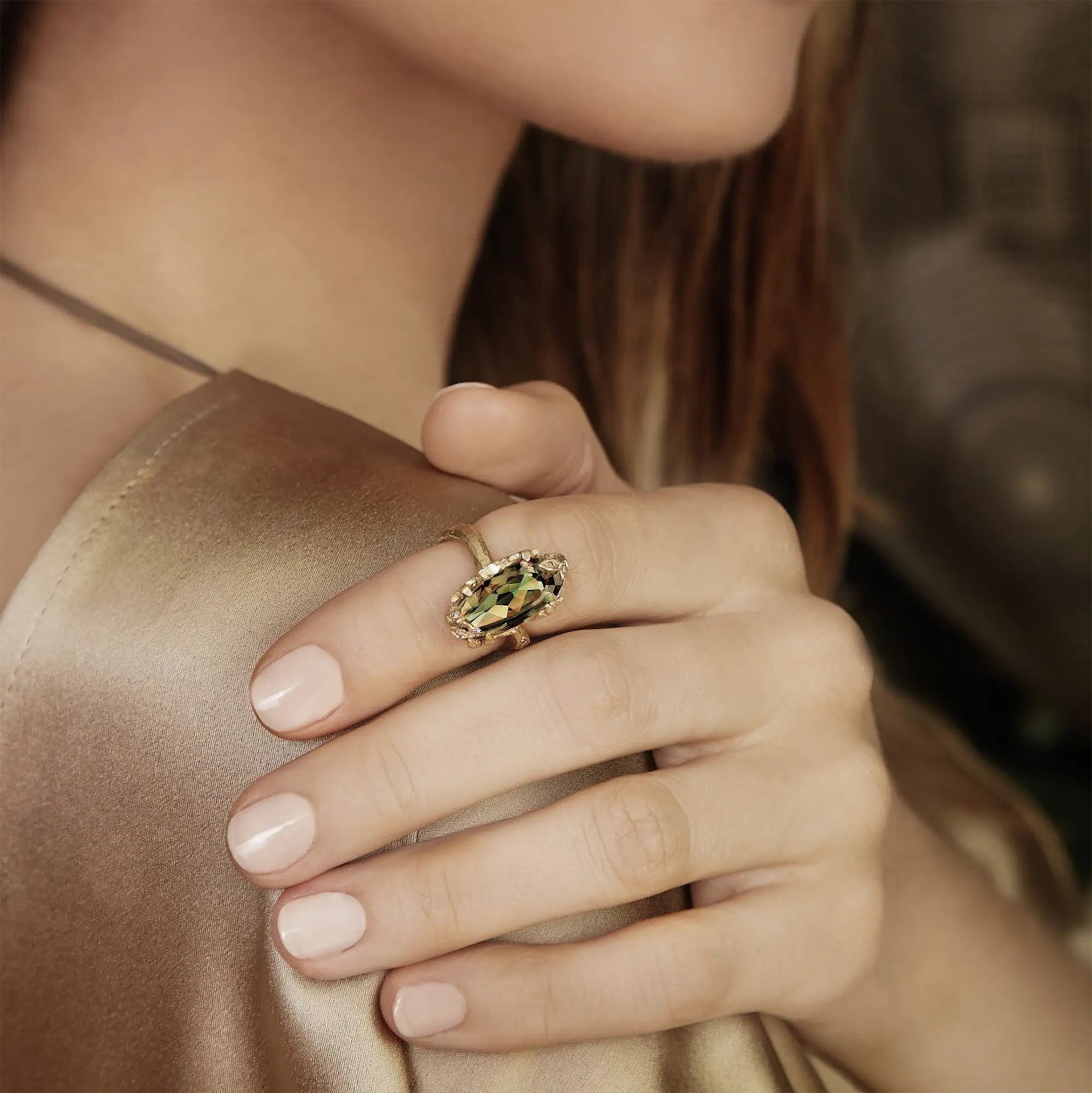 Caring for your Csarite®